The AFM-LED kit was designed to be non-intrusive. You can install the kit in your Attack from Mars pinball machine without making any permanent modifications to your game. No soldering is required.

The AFM-LED printed circuit board will be mounted in the backbox, just like the rest of the boards that control the game. First, turn off your game and wait for 5-10 minutes for things to discharge. Next, unlock the backglass, then unplug and remove the backglass assembly, and place it somewhere safe. Inside the backbox you will see several circuit boards. In the upper-left corner of the backbox, you should see a bare area with four squares cut out of the metal backplane.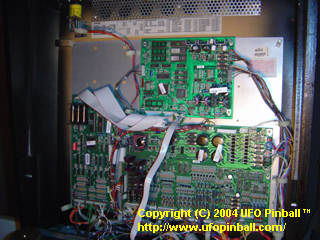 Attack from Mars backbox overview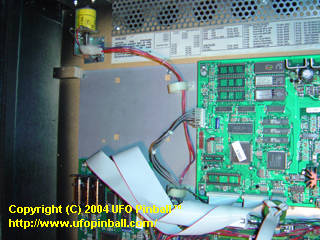 Close up of the AFM-LED installation area



Install the four standoff clips included with the kit in the metal backplane. Pinch the ends together till the bottom of the clip fits inside the square, then release such that the "feet" of the clip slide behind the metal backplane. You may need to temporarily loosen the screws that mount the metal backplane to the wood of the backbox. Once the standoffs are installed, re-tighten the screws to the metal backplane. You may now install the board.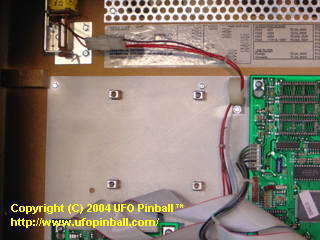 Upper-left backbox area with the four standoffs installed



Using the screws and washers supplied, mount the board with the black interface plugs facing to the right. The board should be screwed in hand-tight, which will help the board make good electrical ground contact. As long as you are there, it might be worth hand-tightening the rest of the boards as well.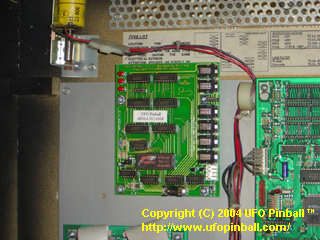 The AFM-LED board installed in the backbox



Jump to another section:
Chapter 1: Installing the board
Chapter 2: Connecting the wire harness
Chapter 3: Inserting the LEDs in the saucers
Chapter 4: Remounting the saucers back in the game
Chapter 5: Connecting the saucers to the board